School Residencies
What?! Your school has no drama program?!
Available in the greater Los Angeles area, our school residency programs provide top quality drama instruction. All of our residency programs make clear connections to literacy and address the Common Core State Standards for ELA as well as the California Arts Standards. The sequence and specific lesson plans are designed and delivered by Mr. Jonas Basom, M.Ed who has taught drama since 1993 in public and private schools.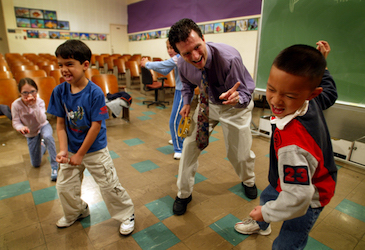 Residency Features
• 1-hour standards-based lessons for theatre or arts integration
• Short (6-8 sessions), medium (8-15 sessions), or long-term programs
• 12+ lessons includes a culminating performance/sharing
• Available year-round for grades K-8 (up to 4 lessons/day)
• Customized to address specific needs and objectives
• Contact us for a free consultation on program design and pricing
Client List (Representative)
Los Angeles Area

Farragut ES (Culver City USD)
Yerba Buena ES (Las Virgenes USD)
R.L. Stevenson ES (Burbank USD)
Lakeland and Cresson ES (Little Lake City ESD)
Lake Center MS and Lakeside MS (Little Lake City SD)
Woodland Hills ES (LAUSD)
Millikan MS (LAUSD)
Pio Pico MS (LAUSD)
Dexter MS and Ewards MS (Whittier City SD)
All 5th grade classes, 10 schools (Newhall USD)

LAUSD Elementary Schools

Marvin
Leo Politi
Alta Loma
Commonwealth
Marquez
3rd Street
Arlington Heights
Canfield
Carthay Center
Eagle Rock
Esperanza
Guiding student journal reflections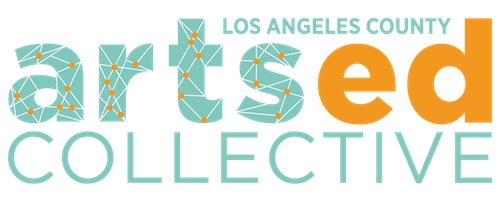 Drama Education Network is now part of the Arts Ed Collective network as a provider of Programs for Students for Los Angeles County schools and districts. Our school residency programs have been reviewed and accepted into the network by a distinguished panel of California arts educators. School districts that are already part of the Arts Ed Collective network can choose to use their grant funding to purchase our school residencies. Learn how to apply for Arts Ed Collective grant funding.
Our Products and Services That Qualify for Arts Ed Collective Grant Funding (formerly Arts for All)
• Drama Works! Teaching System curriculum materials (as part of a PD plan to train classroom teachers in arts integration methods)
•
Staff Development
 services (PD for teachers only, model demonstration lessons with students, video conferencing, and consulting)
• School Residencies for a chosen number of lessons with students (9 or 12 recommended)
Programs for Students (school residencies for grades K-8)
Drama Works for Literacy!
Drama Works for Science!
12 weeks minimum to include a culminating showcase performance for a live audience
Programs for Educators (professional development for teachers)
Integrating Drama/Theatre Across the Curriculum
"This was such a positive experience for our teachers and students,
we are making plans to expand the program for next year!
Mr. Basom's modeling in the classroom was outstanding.
Teachers and students learned so much while having fun!
Excellent customer service, paperwork, and flexible scheduling
made it easy to work with Drama Education Network."
Hector Hernandez
District Curriculum Supervisor