The Drama Game File
The previous version of our curriculum program was The Drama Game File. The three products included in The Drama Game File kit are all discontinued and are no longer available. Instead, the all-new versions are now available as part of the Drama Works! Teaching System. See below for details on what changed and what's new.
The Drama Game File Complete Kit
3 Products (Digital and Print)
• The Drama Game File 2nd Edition CD-ROM (complete digital curriculum on CD-ROM)
• The Companion Notebook (printed lesson plans, visual aids, handouts, and indexes)
• The Character Cards Box Set (bigger, brighter, and stronger version of the flash cards from the CD-ROM)
The Drama Game File CD-ROM
Product Description
This interactive curriculum program for arts and literacy in grades PreK-12 details the why and how of using theatre games to accomplish a variety of educational objectives. Hundreds of point-and-click links lead the teacher through more than 500 pages of material including detailed teaching strategies and 210 printable pages of lesson plans, print-and-cut Character Cards, posters, theatre vocabulary, and more. The 101 games include a mix of classic material with dozens of new activities, 250 variations, and 500 integration ideas in other school subjects. Planning a lesson or unit is made simple with 92 sample classes and extensive cross-indexing by 22 drama skills, 20 theatre arts categories, 11 school subjects, 8 multiple intelligences, and all grade levels.
Based on state and national arts standards, extensive research, and classroom practice, the program incorporates arts assessment, learning styles, literacy development strategies, and a complete classroom management system to maximize student safety, creativity, and learning. No previous drama experience is required.
The Drama Game File CD-ROM Features:
• 101 games (+250 variations) that print as one-page lesson plans
• Connections to state and national theatre arts standards
• 6 sets of printable Character Cards for creativity and literacy
• 500 fun and effective integration ideas for all school subjects
• Cross-indexing: find all the games for 22 drama skills, 4 art forms, 10 school subjects, 8 multiple intelligences, and all grade levels
• Detailed teaching strategies and classroom management ideas
• Extensive theatre glossary with printable vocabulary cards
• Printable posters and references for visual aids and handouts
• 92 sample classes organizing the games into 50-minute lessons
• Dynamic photos of every game in action with students of all ages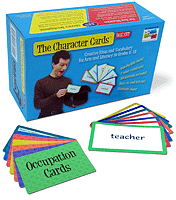 The Character Cards Box Set
Creative Ideas and Vocabulary for Arts and Literacy in Grades K-12
Inspire creative expression, literacy skills, and vocabulary development for your students with these 644 engaging and durable cards. The 7 color-coded categories include occupations, emotions, personalities, mannerisms, what (activities), where (locations), and theatre/literary terms with definitions. These standards-based cards provide instant starting ideas and details for improvisation, storytelling, art projects, creative writing, and parts of speech (nouns, verbs, and adjectives). Acting and guessing words and ideas from the cards also expand students' English vocabulary.
The portable box comes with 7 tabs for easy organization and 50 activity ideas for arts education (theatre, dance, visual arts, and music) and literacy development (reading, writing, speaking, and listening). The 3x5 size with large print is readable from across the room, but small enough to comfortably hold in hand.
The Character Cards come from The Drama Game File 2nd 
Edition CD-ROM. The box set includes bigger, brighter, and stronger cards than printing from the CD. Use as a stand-alone product or with The Drama Game File.
Changes from The Drama Game File to Drama Works! Teaching System
In 2014 we completely redesigned The Drama Game File to become the Drama Works! Teaching System. We responded to extensive user feedback from surveys and interviews. We incorporated new technology, changing the delivery format from CD-ROM to subscription-based website. We chose this new model for several reasons: 1) it would allow us to better serve teachers in the modern digital classroom with internet access more reliable and projection methods more prevalent; 2) we could provide easy access to the entire curriculum from any internet-capable device (phone, tablet, laptop, computer, Mac or PC) without needing a physical CD or disk drive; 3) we could continue to evolve the curriculum with annual updates based on user feedback, and provide ongoing support to a growing online community of users.
Drama Works! Teaching System retains and improves upon content and features of The Drama Game File that users most appreciated. It also contains a wealth of entirely new material. We rewrote all the content and lesson plans, more than doubling the scope and depth of the program. The drama skills list was revised to reflect current research, state and national standards in arts and literacy, and 21st Century skills. We created two all-new lesson plan designs while staying committed to the practical one-page format. All the revisions were made to reflect 4 core areas of focus: 1) creative drama as a teaching tool, 2) theatre arts education, 3) drama and literacy for English Language Arts (ELA), and 4) arts integration across the curriculum.
Specific Topics and Content Addressed in the Revisions
Alignment to the National Core Arts Standards
Alignment to the K-12 Texas theatre standards (TEKS) for textbook adoption (details)
Alignment to the Common Core ELA standards
More challenging material for high school and advanced level students
More frequent distinctions between beginner, intermediate, and advanced levels
New theatre games and lesson plans
More activities and projects in addition to drama games
New categories for Creativity Cards (things, creatures, animals, objectives)
Expanded glossary of terms and Vocabulary Cards as a new box set product
More posters and visual aids for digital projection in the modern classroom
Best practices and pedagogy for Arts Integration
New lessons and ideas integrating the arts (dance, theatre, music, visual arts, media arts)
Connections and integration ideas for Media Arts – the newly designated fifth art form
Music playlists for mood and lessons integrating drama, music, and dance
More strategies and activities for teaching math
More drama games for icebreakers and group builders
More content and lesson plans for teaching theatre history
More content and lesson plans for technical theatre
More content and lesson plans for theatre production
Assessment concepts, strategies, and instructions for creating performance rubrics
Expanded classroom management system
Clarifying teacher talk: what to say and how to say it
More citations of research, learning theories, and pedagogy for college students
Additional models of learning styles such as visual-auditory-kinesthetic (VAK)
Adding two new types to the unique personalities
Clarifying educational philosophy, values, and priorities
What's New? Content Comparison Chart

Content

The Drama Game File

Drama Works! Teaching System

Delivery Method
CD-ROM
Online subscription
Updatable Content
no
yes
Keyword Search of Contents
no
yes
Standards Alignments
PDF supplement
Online with links
Lesson Plans
101
150
Variations
250
1050
Beg/Int/Adv Levels in Lessons
no
yes
Assessment Rubric in Lessons
no
yes
Creativity Questions in Lessons
no
yes
Integration Ideas Provided
500
3000
Cross-Indexing Topics
65
65 (many new)
Drama Skills
22
25
Creativity Cards Box Set
440 cards
500 cards
Creativity Cards Categories
6 main, 0 sub
10 main, 30 sub
Creativity Cards Bonus Ideas
0
800
Wild Cards
no
yes
Glossary of Terms
204 terms
300 terms
Vocabulary Cards Box Set
none
300 cards
Vocabulary Cards Categories
1 main, 5 sub
4 main, 12 sub
Posters
7
7 (all new)
Elements of Drama/Theatre
no
yes
Assessment System
no
yes
Arts Integration System
no
yes
Lessons for Media Arts
no
yes
Music Playlists for Mood
no
yes
Icebreakers Category
no
yes
Theatre History Category
no
yes
Theatre Production Category
no
yes
Classroom Management
yes
expanded/revised
Curriculum Planning Resources
yes
expanded/revised
Teaching Strategies
yes
expanded/revised
Strategies for Literacy/ELA
yes
expanded/revised
Learning Theories and Pedagogy
yes
expanded/revised